Commercial Mobile LP Generators by Onan - Browse Results - Select a Product
Largest online selection of Propane (LP) Commercial Mobile vehicle generators from Onan.
5,500 watts (5.5 kW) to 6,500 watts (6.5 kW). 60 Hertz. 1 Phase - Gaseous engines from Onan.
If you are looking for propane (LP) generators for RV's, this is the right page.
See also Commercial Mobile generators by GeneratorJoe. 10 kW to 60 kW, Single & Three Phase, 60, 50 and 400 Hertz. 3 phase.
---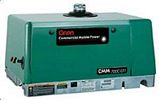 Onan,
QG Series, 5.5 kW (5.5 kVA) 60 Hz, SKU ONCM-006V101, Model 5.5 HGJAE2144 A063B614
Onan EH65V, single phase, LP vapor fueled, air cooled, electric start > Also Available Select an Engine EPA Tier 4i
---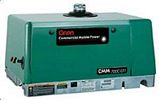 Onan,
QG Series, 6.5 kW (6.5 kVA) 60 Hz, SKU ONCM-007V102, Model 6.5 HGJAE3554 A063B637
Onan EH65V, single phase, LP vapor fueled, air cooled, electric start > Also Available Select an Engine GX630, EPA Tier 4i 120 VAC
---