Mobile Industrial Diesel 1 & 3 Phase Generators by MQ Power SuperSilent - Browse Results - Select a Product
Largest online selection of MQ Power mobile diesel single phase and/or three phase Rental Grade generators.
Commonly called rental generators with multiple voltages.
Whisperwatt Series, 45,000 watts (45 kW) to 640,000 watts (640 kW). Engines from Isuzu, John Deere, Cummins, Volvo, Komatsu.
<!-.World famous MQ Power generators at a competitive price.
---

MQ Power,
WhisperWatt Series, 45 kW (56 kVA) 60 Hz, SKU MQIN-045D309, Model DCA45SSIU4F, (Sound Enclosure)
Isuzu 1204E-E44TAG1, 1 & 3 phase, diesel fueled, liquid cooled, 1800 RPM, electric start, EPA Tier 4
Package(s):
Generator Set with single voltage, weather/sound house ($34,326.50), Generator Set with single voltage, sound house & trailer ($39,058.88), Generator Set with single voltage, weather/sound house ($39,424.88), Generator Set with single voltage, sound house & trailer ($42,074.72)
---

MQ Power,
WhisperWatt Series, 56 kW (70 kVA) 60 Hz, SKU MQIN-056D313, Model DCA70SSJU4F, (Sound Enclosure)
John Deere 1204E-E44TAG1, 1 & 3 phase, diesel fueled, liquid cooled, 1800 RPM, electric start, EPA Tier 4i
Package(s):
Generator Set with single voltage, weather/sound house ($78,765.00), Generator Set with single voltage, sound house & trailer ($88,212.04)
---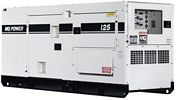 MQ Power,
WhisperWatt Series, 100 kW (125 kVA) 60 Hz, SKU MQIN-100D314, Model DCA125SSIU4F, (Sound Enclosure)
Isuzu BR-4HK1X, 1 & 3 phase, diesel fueled, liquid cooled, 1800 RPM, electric start, EPA Tier 4 Final
Package(s):
Generator Set with single voltage, weather/sound house ($62,982.50), Generator Set with single voltage, sound house & trailer ($72,429.54)
---
MQ Power,
WhisperWatt Series, 125 kW (156 kVA) 60 Hz, SKU MQIN-150D316, Model DCA150SSCU4IPB, (Sound Enclosure)
Cummins 1204E-E44TAG1, 1 & 3 phase, diesel fueled, liquid cooled, 1800 RPM, electric start, EPA Tier 4i
Package(s):
Generator Set with single voltage, weather/sound house ($80,347.68), Generator Set with single voltage, sound house & trailer ($90,629.20)
---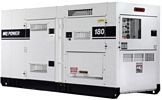 MQ Power,
WhisperWatt Series, 150 kW (188 kVA) 60 Hz, SKU MQIN-180D317, Model DCA180SSCU4IPB, (Sound Enclosure)
Cummins 1204E-E44TAG1, 1 & 3 phase, diesel fueled, liquid cooled, 1800 RPM, electric start, EPA Tier 4i
Package(s):
Generator Set with single voltage, weather/sound house ($91,234.06), Generator Set with single voltage, sound house & trailer ($101,515.58)
---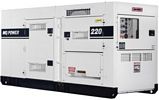 MQ Power,
WhisperWatt Series, 175 kW (219 kVA) 60 Hz, SKU MQIN-220D318, Model DCA220SSCU4IPB, (Sound Enclosure)
Cummins 1204E-E44TAG1, 1 & 3 phase, diesel fueled, liquid cooled, 1800 RPM, electric start, EPA Tier 4i
Package(s):
Generator Set with single voltage, weather/sound house ($92,314.35), Generator Set with single voltage, sound house & trailer ($106,314.43)
---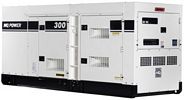 MQ Power,
WhisperWatt Series, 245 kW (306 kVA) 60 Hz, SKU MQIN-300D319, Model DCA300SSCU4I, (Sound Enclosure)
Cummins 1204E-E44TAG1, 1 & 3 phase, diesel fueled, liquid cooled, 1800 RPM, electric start, EPA Tier 4i
Package(s):
Generator Set with single voltage, weather/sound house ($120,854.42), Generator Set with single voltage, sound house & trailer ($136,508.82)
---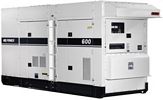 MQ Power,
WhisperWatt Series, 480 kW (600 kVA) 60 Hz, SKU MQIN-600D321, Model DCA600SSVC, (Sound Enclosure)
Volvo TAD1642GE, 1 & 3 phase, diesel fueled, liquid cooled, 1800 RPM, electric start, EPA Tier 2
Package(s):
Generator Set with single voltage, weather/sound house ($177,115.05), Generator Set with single voltage, sound house & trailer ($193,662.25), Generator Set with single voltage, sound house & trailer ($195,762.90)
---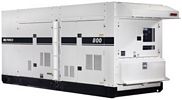 MQ Power,
WhisperWatt Series, 640 kW (800 kVA) 60 Hz, SKU MQIN-800D323, Model DCA800SSK2C, (Sound Enclosure)
Komatsu SA12V140, 1 & 3 phase, diesel fueled, liquid cooled, 1800 RPM, electric start, EPA Tier 2
Package(s):
Generator Set with single voltage, weather/sound house ($279,704.25), Generator Set with single voltage, sound house & trailer ($296,251.45), Generator Set with single voltage, sound house & trailer ($298,352.10), Generator Set with single voltage, sound house & trailer ($299,933.46)
---