Home and business owners often ask us two questions:
1. What size generator do I need? and
2. Should use a portable or stationary generator for my home or business? This great article by Coleman, a leading manufacturer of home generators was adapted to answer this question for you. Read each section carefully and you will see how each type of generator fits into you power backup planning.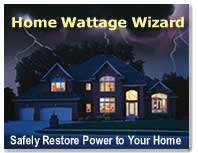 In the past, enduring a power outage was as simple as lighting a candle and the fireplace. Not anymore. Without electricity, basements can flood. Security systems can falter. Home businesses can fail.

Many homeowners are unable or unwilling to wait out the next power outage, so they are installing backup power systems in their homes.

The first step in purchasing a backup power source is figuring out how much power you need. Power generation systems are rated according to the number of kilowatts (kW) of electricity they produce.

The following chart quickly summarizes how much electricity various power generators can produce.
Rated Watts
Description
Degrees of Power
5 kW
A basic system that can restore power to multiple "survival appliances".
Four lights, furnace fan, sump pump and refrigerator/freezer
6.5 kW
A small system to keep all the survival appliances operating and a few extras.
Survival appliances plus family room.
8 kW
A mid-Sized system to help you weather powerless days and nights.
Survival appliances plus family room and home office.
10 kW

& 12 kW

An emergency backup power system providing comfort and security.
Survival appliances plus family room, home office and kitchen. About 100 Amps.
15 kW
A powerful system with enough energy to run a small home.
Survival appliances plus family room, home office kitchen and laundry room. About 150 Amps.
25 kW
A mini-power plant that can run a small to mid-sized home or business.
All of the above plus an air conditioning system. About 200 Amps.
30 kW and up
A mini-power plant that can run a mid-sized to large home or business.
All of the above and more. Live in total comfort.
For a more detailed analysis, use our interactive Wattage Requirement Guide to determine how much power you'll need during a blackout.

It's very important not to run too many appliances at once and overload your emergency power source. As a general rule, the total running (rated) amps of all the appliances being used at one time and add the starting amps of the largest motor. You can deduct the running amps of the largest motor. The total amps should not exceed 90% of the power source's total amperage.
PORTABLE GENERATORS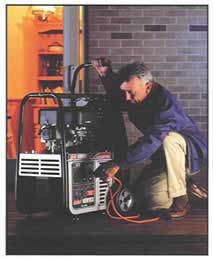 A growing number of Americans are converting their portable gasoline generators into emergency backup power systems.

The minimum size recommended for home-emergency use is a 5,000-watt generator (starting around $1,700), which can power multiple appliances for several hours. The cheaper the generator the lower the quality and the shorter the life.

Portable generators are available on our site and can be shipped anywhere around the country. Retail stores carry them also but they become scarce during a blackout and often it is difficult to find the cords, plugs, transfer switches and other parts needed. Most generators sold in hardware stores are low quality, price cutting types of units. We sell contractor quality, built to last.
We carry several brands of portable generators including: VoltMaster, Yamaha, Baldor, Winco, Onan, Robin and others. For more information on portable generators, Just Click > Portable Gasoline Generators or Portable Diesel Generators or Portable 3 Phase Generators.

Extension Cords
The most common way to use a portable generator is to place it outdoors, then run an extension cord(s) through an open window or door to the chosen appliance. This approach works well for smaller generators because you can only plug in one or two items. You must connect the item directly unless you use a transfer switch. NOTE: You cannot run a generator indoors, not even in the garage, because a generator makes carbon-monoxide which is odorless an color-less and it can kill you and your family.

Be sure to use appropriately sized power cords to carry the electric load. If you use an undersized cord, you can potentially damage the generator and appliances.

Extension cords are rated by "gauges." For example, the most common size for generator use is 14, 12 and 10 gauge. The smaller the gauge number, the thicker the cord and the more electricity it can carry.

Extension cords have several other drawbacks. First, most extension cords can't be plugged into a furnace, well pump, or ceiling-light fixture. And, if they are placed under rugs or carpets, heat can build up and spark a fire.

To see a summary of issues involving portable generator see Portable vs Stationary generators. To consider using an RV generator in your home read this important informations.. Portable vs RV.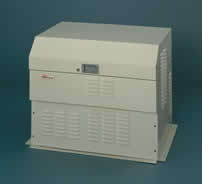 If you want the convenience, security, and comfort of a generator but don't want to venture out in inclement weather to get it started, you might want to consider getting an emergency standby generator.

These personal power plants supply electricity to the majority of your house, not just to a few selected circuits. The all-weather generators are installed outside like a central air conditioner and are wired through an automatic transfer switch to the main electrical panel.

The units run on natural gas, propane, or diesel fuel. Some systems can even be connected to a home's natural gas line, eliminating the need to fill fuel tanks.

When the power goes out, there's a slight delay of 15 to 20 seconds, then the generator automatically kicks on - whether you're home or not - and continues running until power is restored, when it will automatically shut off. If you have critical applications such as life support equipment, computers or similar systems, you can install a UPS (uninterruptible power supply, a battery in a special box), and there will be no interruption of power to these devices while the generator starts up.

These systems are becoming increasingly popular in newer homes with sophisticated computers and electronics, and in rural areas where prolonged power outages are common. To see our extensive line of home standby generators, Just Click > Residential & Commercial Packaged Systems.

INDUSTRIAL, PRIME POWER AND DIESEL GENERATORS

For industrial standby use or prime power use a properly sized Just Click > Industutrial NG/LP Single Phase or Industrial NG/LP Three Phase, 30 kW to 199 kW or Three Phase, 200 kW to 425 kW. SPECIAL BUILD UNIT FROM 500 TO 1,300 NG ARE AVAILABLE, PLEASE CALL.
NOTE: Many Natural Gas generators derate significantly on propane, see your GeneratorJoe representative for more information.

For Natural Gas prime power uses, all day long or 24/7/265 Just Click > Prime Power Single Phase or Prime Power Three Phase. Propane is NOT considered a prime power fuel.

For Diesel generators from 9 kW to 2000 kW, Just Click > Industrial GenSets - Single Phase or Industrial GenSets - Three Phase, 9 kW to 199 kW or Industrial GenSets - Three Phase, 200 kW to 2000 kW. If propertly sized many industrial diesels can be used for prime power.

For Diesel Prime power uses from 25 Kw to 1200 kW are available. Just Click > Prime Power, Diesel, (Oil Field), 1 & 3 Phase Generators

For Mobile Diesel generators from 25 kW to 500 kW, Just Click > Industrial Diesel, 1 & 3 Phase Trailer Mounted.

For more information about generators See About Generators.
For safety's sake, hire a licensed electrician to install a transfer switch that distributes power from the generator to the home's breaker panel. DO NOT REMOVE METERS OR PLUG POWER INTO DRYER PLUGS! EVEN IF YOU DISCONNECT THE MAIN BREAKER YOU CAN SEND POWER DOWN THE LINE THROUGH GROUND AND KILL A UTILITY WORKER OR ELECTRICAN. IMPROPERLY INSTALLING TRANSFER PANELS OR SWITCHES CAN VOID YOUR INSURANCE EVEN IF THE INSTALLATION DONES NOT CAUSE THE PROBLEM. IT IS NOT SAFE AND ITS ILLEGAL!

For small switches, Just Click > Transfer Switches, Portable-Small Applications. For larger systems, Just Click > Transfer Switches, Large and Industrial. For more information See About Transfer Switches.

NOW GET TO WORK AND FIGURE OUT WHAT YOU NEED FOR YOUR HOME OR BUSINESS STANDBY GENERATOR!