Mobile Industrial Diesel 1 & 3 Phase Generators by GeneratorJoe - Browse Results - Select a Product
Largest online selection of GeneratorJoe mobile diesel single phase and/or three phase Rental Grade generators.
Commonly called rental generators with multiple voltages.
20,000 watts (20 kW) to 500,000 watts (500 kW). Engines from Cummings, Isuzu & Perkins.
We have high quality generators at a competitive price and with the longest warranty in the industry. No foreign parts. Made in the USA by Americans!
---

GeneratorJoe,
Centurion "J"™ Series, 60 kW (75 kVA) 60 Hz, SKU GJPMJ-060D305-T4, Model 60 PMJD3 T4, (Open, No Enclosure), Enclosures Optional
John Deere 2R550NA, three phase, diesel fueled, liquid cooled, 1800 RPM, electric start, auto start, EPA Tier 4 Final, UL2200
---

GeneratorJoe,
Centurion "V"™ Series, 100 kW (125 kVA) 60 Hz, SKU GJPMCV-100D307-T4, Model 100 PMCV3 T4, (Open, No Enclosure), Enclosures Optional
Volvo 3R550NA, 1 or 3 phase, diesel fueled, liquid cooled, 1800 RPM, electric start, auto start, EPA Tier 4 Final, UL2200
Package(s):
Open No Enclosure, w/170 gallon tank ($40,133.19), Sound Enclosed, Level 1, w/170 gallon tank ($43,387.05)
---

GeneratorJoe,
Centurion "V"™ Series, 150 kW (188 kVA) 60 Hz, SKU GJPMCV-150D308-T4, Model 150 PMCV3 T4, (Open, No Enclosure), Enclosures Optional
Volvo 3R550NA, 1 or 3 phase, diesel fueled, liquid cooled, 1800 RPM, electric start, auto start, EPA Tier 4 Final, UL2200
Package(s):
Open No Enclosure, w/170 gallon tank ($59,762.50), Sound Enclosed, Level 1, w/170 gallon tank ($65,031.25)
---

GeneratorJoe,
Centurion "V"™ Series, 200 kW (250 kVA) 60 Hz, SKU GJPMCV-200D309-T4, Model 200 PMCV3 T4, (Open, No Enclosure), Enclosures Optional
Volvo 3R550NA, three phase, diesel fueled, liquid cooled, 1800 RPM, electric start, auto start, EPA Tier 4 Final, UL2200
Package(s):
Open No Enclosure, w/170 gallon tank ($64,353.71), Sound Enclosed, Level 1, w/170 gallon tank ($68,637.75)
---

GeneratorJoe,
Centurion "V"™ Series, 250 kW (313 kVA) 60 Hz, SKU GJPMCV-250D310-T4, Model 250 PMCV3 T4, (Open, No Enclosure), Enclosures Optional
Volvo 3R550NA, three phase, diesel fueled, liquid cooled, 1800 RPM, electric start, auto start, EPA Tier 4 Final, UL2200
Package(s):
Open No Enclosure, w/170 gallon tank ($74,013.71), Sound Enclosed, Level 1, w/170 gallon tank ($80,460.25)
---

GeneratorJoe,
Centurion "V"™ Series, 300 kW (375 kVA) 60 Hz, SKU GJPMCV-300D311-T4, Model 300 PMCV3 T4, (Open, No Enclosure), Enclosures Optional
Volvo 3R550NA, three phase, diesel fueled, liquid cooled, 1800 RPM, electric start, auto start, EPA Tier 4 Final, UL2200
Package(s):
Open No Enclosure, w/170 gallon tank ($75,631.25), Sound Enclosed, Level 1, w/170 gallon tank ($87,756.25)
---

GeneratorJoe,
Centurion "V"™ Series, 350 kW (438 kVA) 60 Hz, SKU GJPMCV-350D312-T4, Model 350 PMCV3 T4, (Open, No Enclosure), Enclosures Optional
Volvo 3R550NA, three phase, diesel fueled, liquid cooled, 1800 RPM, electric start, auto start, EPA Tier 4 Final, UL2200
Package(s):
Open No Enclosure, w/170 gallon tank ($89,127.25), Sound Enclosed, Level 1, w/170 gallon tank ($88,762.25)
---

GeneratorJoe,
Centurion "V"™ Series, 570 kW (713 kVA) 60 Hz, SKU GJPMCV-550D314-T4, Model 550 PMCV3 T4, (Open, No Enclosure), Enclosures Optional
Volvo 3R550NA, three phase, diesel fueled, liquid cooled, 1800 RPM, electric start, auto start, EPA Tier 4 Final, UL2200
Package(s):
Open No Enclosure, w/170 gallon tank ($116,916.25), Sound Enclosed, Level 1, w/170 gallon tank ($126,353.75)
---

GeneratorJoe,
Centurion "V"™ Series, 600 kW (750 kVA) 60 Hz, SKU GJPMCV-600D315-T4, Model 600 PMCV3 T4, (Open, No Enclosure), Enclosures Optional
Volvo 3R550NA, three phase, diesel fueled, liquid cooled, 1800 RPM, electric start, auto start, EPA Tier 4 Final, UL2200
Package(s):
Open No Enclosure, w/170 gallon tank ($113,236.25), Sound Enclosed, Level 1, w/170 gallon tank ($121,392.50)
---

GeneratorJoe,
Centurion "V"™ Series, 400 kW (500 kVA) 60 Hz, SKU GJPMCV-400D313-T4, Model 400 PMCV3 T4, (Open, No Enclosure), Enclosures Optional
Volvo 3R550NA, three phase, diesel fueled, liquid cooled, 1800 RPM, electric start, auto start, EPA Tier 4 Final, UL2200
Package(s):
Open No Enclosure, w/170 gallon tank ($95,870.10), Sound Enclosed, Level 1, w/170 gallon tank ($95,276.35)
---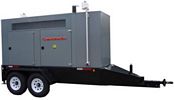 GeneratorJoe,
Centurion "V"™ Series, 500 kW (625 kVA) 60 Hz, SKU GJPMV-500D319, Model 500 PMV, Sound Enclosed Only
Volvo TWD1643GE , three phase, diesel fueled, liquid cooled, 1800 RPM, electric start, auto start, EPA Flex, UL
Package(s):
Generator Set with single voltage, weather house & trailer ($124,999.53), Generator Set with single voltage, sound house & trailer ($132,882.10), Generator Set with voltage switch, sound house & trailer ($150,684.60)
---
600 kW 60 Hz
500 kW 50 Hz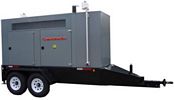 GeneratorJoe,
Centurion "PM"™ Series, 600 kW (750 kVA) 60 Hz, SKU GJPMV-600D320, Model 600 PMV 3, Sound Enclosed Only
Volvo TWD1643GE , 1 & 3 phase, diesel fueled, liquid cooled, 1800 RPM, electric start, auto start, EPA Flex, UL
Package(s):
Generator Set with single voltage, weather house & trailer ($147,999.53), Generator Set with single voltage, sound house & trailer ($155,882.10), Generator Set with voltage switch, sound house & trailer ($173,684.60)
---