ALL NEW CAPTAIN SERIES COMING SOON !
9, 14, and 25 kW "Prime Power" for mobile applications, military, food trucks, and construction.
Compact 1800 RPM, Liquid cooled,
Single or three phase, 50 or 60 hz.
AND
ALL NEW RANGER SERIES COMING SOON !
Replacement for "Kubota Low Boy Generators
9, 14, and 25 kW "Prime Power". Digital Controls and 1800 RPM
Receptacles and Terminals on all units, Single or three phase 50 or 60 Hz
Full features of a large generator in a small package.
Auto-start and advanced controls for mobile or stationary use.

------- We build our own brand to your specs! Made in the USA! -------
------------- WE SHIP FROM THE EAST AND WEST COASTS -------------
NO SALES TAXES IN ANY STATE EXCEPT California!
We are GSA Contractors. GSA pricing is available to all federal, state, county & local government agencies. Contact us for GSA prices.
SORRY, WE DO NOT SELL GENERATOR SPARE OR REPLACEMENT PARTS OR MANUALS
Need Help Placing an Order?

or

707-542-2224

California, Pacific Time

I will take your order!

See our extensive generator offerings on this website.

We have the best mobile mounted generator sets on the market!

Let us build what you need for the coming year.

Nobody gets the job done like GeneratorJoe!

Best In The Industry!

5 YEAR, 5,000 HOUR

WARRANTY
FEATURED INDUSTRIAL GENERATORS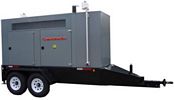 diesel
Centurion "V"™ Series, (Rental Grade), 500 kW SKU GJPMV-500D319, Model 500 PMV, Generator Set w/ single voltage & Trailer
$71,207.02
View

diesel
Centurion "V"™ Series, 570 kW (713 kVA) 60 Hz, SKU GJPMCV-550D314-T4, Model 550 PMCV3 T4, Weather Enclosed, w/170 gallon tank
$98,350.00
View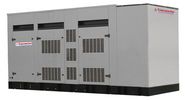 diesel
Centurion "M"™ Series, 1000 kW (1250 kVA) 60 Hz, SKU GJMI-1000D322, Model 1000 MI3, (Open, No Enclosure), Enclosures Optional
$147,500.00
View
REASONS TO BUY FROM GENERATORJOE
GeneratorJoe is simply the best online retailer for diesel generators in the United States. All products are MADE IN AMERICA!
We are committed to our business, our customers, and the industry. We maintain the highest standards of excellence, without charging higher prices.
Our customers love us and keep coming back! If you need a few more reasons why you should buy a generator from GeneratorJoe over other diesel and NG/LP generator sellers, please continue reading. Below are our best and most honored customers. Thanks to all our service members and their civilian support staff for protecting us and our county. As fellow veterans, we salute all who have served.
Reason #1 - Pricing
GeneratorJoe is the #1 online retailer for diesel and NG/LP generators in the United States. We didn't get there by underselling our products and customer service, or by overcharging our customers. We earned the loyalty of our customers through fair pricing, great customer service, and honest business practices. We have the best prices and the largest selection of products for your industrial, commercial, and residential generator needs. We specialize in trailer-mounted diesel and NG/LP mobile generators for the oil/gas, mining, and rental industries. We also sell RV and commercial mobile generators for vehicles. If you need transfer switches. large fuel tanks and other on-site equipment to support your generator, we can provide what you need at the best prices available.
Reason #2 - Customer Resources
GeneratorJoe is the only diesel and NG/LP generator manufacturer that provides customers with the resources they need to make the right decision for their generator requirements. Whether you want to buy a portable gasoline or diesel generator, industrial diesel or NG/LP generator, we have the information and products, at the best prices that you are looking for. We provide factory brochures, complete product descriptions, and comparison tools for every generator category we sell. Our website system automatically calculates your system price in real-time to show sales prices, shipping costs, and compatible accessories.
Reason #3 - Ethical Business Practices
We are friendly and fair! We are a 100% Disabled Veteran-owned small business. All products we sell are MADE IN THE USA! We take care of our employees and our customers. If you have a question about purchasing a diesel or NG/LP generator or any of our products, please call us or email us directly and we will answer. Hello! GeneratorJoe!
Reason #4 - Because no one else can do what we do!
GeneratorJoe is the only company that offers a website capable of showing its customers all products and options with prices and shipping fees - in REAL time. We are the only website that offers our customers the option to search for diesel generators, buy a generator, or lease a generator without having to make a phone call or visit a retail location. We made the commitment years ago to build a website that could offer our generator customers this kind of convenience, expert information, and support. For over 10 years we have been leaders in the industry offering consumers the best selection of high-quality products and the lowest available prices. Many other generator sellers have come and gone, but GeneratorJoe is here to stay!
We Sell Generators from Cummins, Doosan, GeneratorJoe, GM, Honda powered, Isuzu, John Deere, Kohler, Kubota, Mitsubishi, MTU, Nissan, Onan, Perkins, Terex, Volvo, and others.
We sell ASCO transfer switches at the lowest prices in the USA.
The Generator Industry's BEST Warranty! Included in the price on most models!

All GeneratorJoe industrial and mobile generators have an industry-exclusive

5 year, 5,000-hour warranty.

No other manufacturer, OEM, dealer, or seller offers this warranty without extra fees. How do we do it?

We build our generators right the first time!

Contact us today to order your GeneratorJoe generator with the industry's BEST Warranty of 5 Years, 5,000 Hours.
We know how to get the job done. We specialize in building units in stock for you quickly and at a great price. Multiple matching units, large sizes, specially equipped units are no problem for us. You need it and we will do the best we can to find it for you and negotiate a fair price.
Our competitors refuse to show you prices and have no way for you to check prices online. Why? Because they want to size you up and see how much you know about generators and generator prices. They will charge you what they can and charge you even more for freight. GeneratorJoe sells all products to all customers at the same price. GeneratorJoe shows you our prices and suggested list prices on every single product! We have nothing to hide and don't play games with your money or your head. See Our Competition for more information.
Our Competitors have No Shopping Cart? Why? In this modern age of computers, any company can maintain a decent website and show you what they offer. If they DO NOT offer you a shopping cart showing all products and options WITH prices, you should question their commitment to the business. If they are internet sellers and they will not spend money on a decent website, how long will they be around? GeneratorJoe has the most sophisticated and modern website in the entire industry! Our database-driven state-of-the-art system provides detailed model data (including fuel consumption), factory brochures, specification summaries, and comparison tables on over 700 generators, combinations, and options. We don't have a few brands that we try to force-fit your requirements into, we provide many brands and one of them perfectly fits your needs. GeneratorJoe provides online real-time freight quotes, online real-time leasing, and prices so you can buy it right now. We will be happy to help you with any purchase or provide expert engineering assistance. Just call GeneratorJoe at 707-542-2224 or write [email protected].
We have it all: portables, RV, mobile commercial, commercial, residential, industrial, mobile trailer mount, container clip-on, and mobile lighting too. We have all fuels, gasoline, diesel, LPL, LPV, Natural Gas, duel, and multi-fuel. We also have the lowest transfer switch prices on the internet with FREE SHIPPING when you buy a switch with a generator.
Buy where the government and major corporations buy Click Here for a partial list, The Fortune 10,000 buys here!
We have more generator brands, more generator models and the lowest generator prices with the best warranty.
Many ways to shop for generators, shop by generator size, shop by generator watts, shop by generator brand, shop by generator category, shop by generator fuel.